VILLA SPINOSA TODAY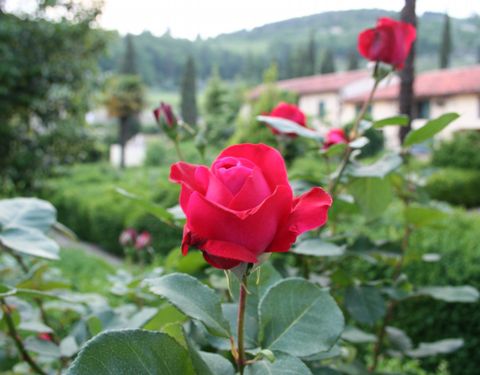 Villa Spinosa is a winery located in Negrar, on the high ground of Jago,
at the foot of the Colle Masua hill,
producing the traditional wines of the Valpolicella.
In the old farmhouses, converted into fermenting
and aging cellars as well as a Wine Shop,
we also got accommodation chances and suitable spaces
to host guided tours, wine tasting, events and weddings.
Together with the 19th century villa,
adorned with a romantic Italian style garden,
the most precious parts of the Villa Spinosa estate
are the Jago, Figari and Costa del Buso
cru vineyards.
Our Staff
Our staff is a team of close-knit and professional people, inspired by love for their work, for the wine and the territory.
We share passion and enthusiasm with precious consultants who provide us with their advice and their know-how.
All together we made it possible to turn a dream into a business and cultural reality, a dynamic and modern winery in the Valpolicella Classico.
ANDREA ZARAMELLA
General Manager and Wine Growing Area Manager

He takes care of the entire production chain and coordinates the staff working in the vineyard and in the cellar. He is also in charge for any project and building work for enlarging the company's facilities. Born to lead, he is with us since 2004.

GIANMARIA CIMAN
Wine expert, Wine Making Area Manager

He is in charge for the whole wine making process, from the harvest to the bottling. He' s a young wine expert but with a lot of experience matured working side by side with Master Roberto Ferrarini. He has joined our staff since the Amarone harvest 2014.

ENRICO NICOLIS
Wine Consultant

He was formed under the professional guide of Master Roberto Ferrarini. Since 2015 he puts his experience at our disposal in order to follow our wines' evolution, together with our wine expert.

ALESSANDRO PILATI
Wine production Assistant

He is a young collaborator working in the cellar, who experienced the same job in other wineries and joined our team in 2015.
FRANCESCO UGOLINI
Wine production Assistant

He's a young collaborator too, working in the vineyard, with a lot of experience by pruning, managing tractors and any machine activity in the fields. He joined our staff in the summer 2012.

ROBERTO GALVANINI
Assistente alla produzione vinicola

.

SEASON WORKERS
Farmers

Jacenty and Stanislaw are two Polish collaborators who joined our team years ago in order to help us with season jobs in the vineyards, from the pruning to the harvest.

HARVEST TEAM
Farmers

Since 2006 a team of Polish workers started joining our staff for the harvest and has developped very good skills by picking and selecting the grapes of Valpolicella.
MICHELA ARCIDIACONO
Account Manager

She is in charge for the administrative area and the secretariat, monitoring the whole company management. Nothing escapes her good care. She joined Villa Spinosa in 2005.

LISA AMBROSI
Hospitality Manager

She welcomes the guests of our residence and the visitors of our wine shop by guiding them throughout the tour of our winery and the tasting of our wines thanks to her knowledge of foreign languages. She joined our team in 2011.

ANDREA CRIVELLARI
Web & Social Marketing Assistant

He manages our web site and social media, as well as our marketing and promotional area. He is the new entry in our team, he joined  in 2016.