VILLA SPINOSA TODAY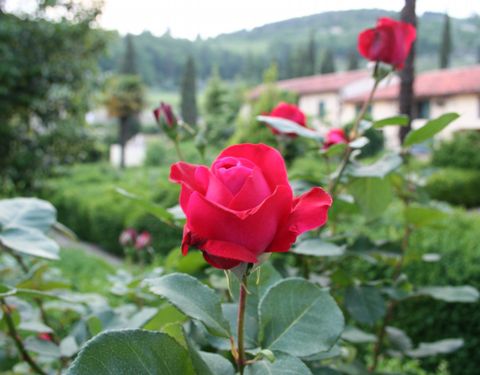 Villa Spinosa is a winery located in Negrar, on the high ground of Jago,
at the foot of the Colle Masua hill,
producing the traditional wines of the Valpolicella.
In the old farmhouses, converted into fermenting
and aging cellars as well as a Wine Shop,
we also got accommodation chances and suitable spaces
to host guided tours, wine tasting, events and weddings.
Together with the 19th century villa,
adorned with a romantic Italian style garden,
the most precious parts of the Villa Spinosa estate
are the Jago, Figari and Costa del Buso
cru vineyards.
Our Staff
Our staff is a team of close-knit and professional people, inspired by love for their work, for the wine, for the territory and for the hospitality.
We share passion and enthusiasm with precious consultants who provide us with their advice and their know-how.
All together we made it possible to turn a dream into a business and cultural reality, a dynamic and modern winery in the Valpolicella Classico.
ANDREA ZARAMELLA
Director and Vineyard Manager

He is in charge of the entire grape growing process and supervises employees, working in the vineyard and in the cellar. He also manages all building projects and works for expanding the company's facilities. Born to lead, he joins us in 2004.

GIANMARIA CIMAN
Wine Production Manager

He is in charge for the whole wine making process, from harvest to bottling. He's a young enologist, but he gained experience and knowledge working side by side with Master Roberto Ferrarini. Since 2015, with the making of Amarone 2014, he started his collaboration with Villa Spinosa.

ENRICO NICOLIS
Winemaking Consultant

He was educated under the guidance of Master Roberto Ferrarini as well and works together with our head winemaker to produce our wines. He puts his experience at our disposal since 2015.

MATTIA FERRARI
Wine production Assistant

He works in the cellar: a young assistant, involved in all winemaking stages from vinification to bottling. He joined our team since 2022.
ENRICO BONESINI
Vineyard Assistant

He helps with the vineyard management practises. He started working at Villa Spinosa soon after his graduation, he's the joungest worker in our team.

MICHELA ARCIDIACONO
Accounting Manager and General Secretariat

She manages and supervises the accounting department and is in charge of company secretarial matters. Nothing escapes her good care. She joined Villa Spinosa in 2005.

RITA FACCIOTTI
General Services

She takes care of the work environment; she is in charge of maintaining clean and comfortable our hospitality spaces,  wine shop and apartments. She joined us in 2018.

PIERGIOVANNI FERRARESE
Sale & Marketing

He is in charge of relationships with Italian and foreign customers. He manages commercial activities, events, promotions and social media. He joined us in 2019.